The Story behind { & in-front of }  Jackson Hole Winery 
Jackson Hole Winery Family

The winery sits next to Spring Creek in Jackson, with beautiful views of the Grand Tetons. Founded in 2009, with its first vintages of Chardonnay and signature Rendezvous Red Blend bottled in 2011, the winery now produces approximately 4,000 cases of wine annually. 
Our family-owned, boutique winery produces its wine by hand, using traditional methods and the help of many of friends to crush, ferment and bottle our award-winning wines.  During his internship in 2005 at a small family winery in the Napa Valley, our vintner, Anthony Schroth, noticed how similar their layout was to his family's property in Jackson Hole, Wyoming. This set off a passion for him to one day start a wine business with his family in his hometown. He knew the Jackson climate did not provide the opportunity to grow grapes. However, he realized there was plenty of space for making and storing wine there, as the winery once was the original Spring Creek Dairy of Jackson Hole, circa the late 1940s.  
Our wines are produced and cellared at 6,229 feet above sea level on Spring Creek at the base of the Grand Tetons. The cool mountain air preserves the wine's aromatics through a slow fermentation and aging process, allowing the wine to develop its distinctive personality. Now 10 years old, the winery sources grapes from seven of its own vineyards in the Sonoma region, and source additional fruit from the Sonoma, Napa and Walla Walla, WA AVAs. We only source fruit of the highest quality, and we have truly made this our labor of love. 
Anthony does not believe in rushing Mother Nature. He remains patient and methodical in his craft in order to find the perfect balance. This involves care in every step of the way, from deciding when to harvest, to finding the right pH levels, maintaining the right acidity, and most importantly, seeking good fruit flavor. This attention to detail is what is a priority for us at Jackson Hole Winery and shows in our award-winning wines.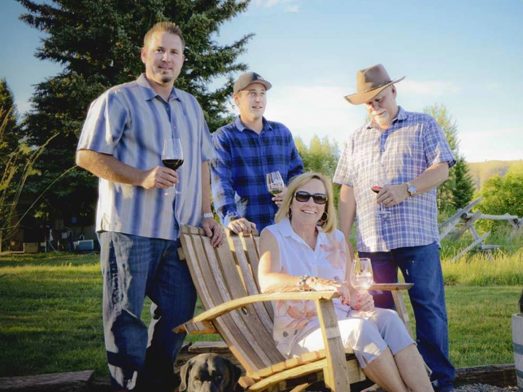 About the Winemaker – Anthony Schroth's
Anthony Schroth's career path to the winery industry actually started out with America's favorite pastime, baseball. In 2003, Anthony was recruited by Sonoma State University to play baseball.  Due to a shoulder injury, the baseball career never materialized, making way for his destiny. It began quite by accident when he learned an accounting course wasn't available, he had to make another choice. As a lark, he signed up for a wine course and what began as an inconvenience, launched his career as a winemaker.

 

During the 2005 harvesting season, Anthony worked as an intern with O'Brian Family Vineyards in Napa, CA. His immersion into the wine culture there unveiled what the industry had to offer. He graduated from Sonoma State in 2006 with a double major in marketing and wine business, and was hired full-time at Harvest Moon Estate & Winery, in the heart of the Russian River Valley. There, Anthony fine-tuned his skills in every aspect of the wine business, wearing several hats that helped him become a well-rounded winemaker and businessman.

 

In 2007, Anthony has his first opportunity to begin managing a vineyard for his own use. The vineyard was in need of improvement and after many long days, and much time and energy, in 2009 he had brought it back to quality condition.

 

During the long hours in the vineyard fantasizing about his future in the wine industry, the vision for and then the reality of Jackson Hole Winery came to fruition. It is his hope that his "wines with altitude" have as lasting of an impression on you as the Grand Teton range has on the many visitors to Jackson Hole.